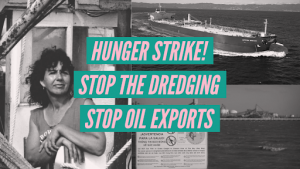 Texas environmental activist, Diane Wilson began a hunger strike at the waterfront of Lavaca Bay, April 7, to demand the Biden Administration stop dredging the mercury-contaminated Matagorda Ship Channel for a terminal to export fracked crude oil.
Wilson, a fourth-generation shrimper, mother of five, and veteran activist, has launched legislative campaigns and demonstrations and even sunk boats and climbed chemical towers in her fight to protect her Gulf Coast bay. Since 2012, Wilson has been executive director of San Antonio Bay Estuarine Waterkeeper. She was featured in the award-winning documentary Texas Gold and won the Blue Planet Award in Berlin, Germany for her activism.
She recently won a $50 million settlement against Formosa Plastics–the largest settlement ever won in the U.S. by a private citizen suing an industrial polluter–for its repeated violations of the Clean Water Act. Twenty million dollars of that settlement was given to establish a sustainable fishery cooperative and help local fishermen revitalize the fisheries of Lavaca and Matagorda Bays.
In a statement, the environmental group, Earthworks, said, "Should the dredging of the Matagorda Ship Channel proceed, the Army Corps of Engineers acknowledges that mercury contamination from the Alcoa Superfund site could be unearthed and devastate fisheries that local communities are working to restore and revitalize."
Diane, along with Senators Chuck Schumer and Jeff Merkeley are urging the Biden Administration to declare a National Climate Emergency and use presidential authority to reinstate the crude oil export ban and halt expansion of oil infrastructure.
Her hunger strike presents the Biden Administration with a clear choice: protect or destroy a revitalizing, sustainable economy?  And it begs the big question: would corporations be determining what happens to Lavaca Bay if the U.S. actually was a democracy?
This online toolkit contains everything you need to support Diane's campaign to stop the dredging of Matagorda Bay and stop crude oil exports. It will be updated, so check back often.  Diane Wilson Hunger Strike Support Toolkit
In this 2009 video, Diane speaks from Copehagen, where she participated in a hunger strike with local fishermen.

April 27, 2021 Update
PRESS RELEASE
CONTACTS: 
Ethan Buckner, Earthworks, ebuckner@earthworks.org +1 (612) 718-3847
Diane Wilson, wilsonalamobay@aol.com +1 (361) 218-2353
Shrimpers, supporters urge Biden Admin to cancel Matagorda Ship Channel oil export dredging project in support of hunger strike
POINT COMFORT, TX – On the 20th day of shrimper Diane Wilson's hunger strike, representatives of 81 fishing communities and environmental and human rights organizations sent a letter to the Biden Administration urging the President to revoke authorization for the proposed dredging of the Matagorda Ship Channel. The project is being partially financed by startup oil company Max Midstream, which is seeking to transform the Port of Calhoun into an oil export hub. Ms. Wilson, a 4th-generation shrimper, author, and activist, has been on a water-only hunger strike since April 7th, 2021 in fierce opposition to the dredging and associated oil export terminal project.

"I am risking my life to stop this project because it would destroy my community's fisheries, our climate, and our way of life," said Diane Wilson. "Stopping this oil export project should be a no brainer for a President that cares about environmental justice and the climate." 

Permitted by the  US Army Corps of Engineers the dredging project threatens to unearth mercury pollution from the existing Alcoa superfund site and potentially devastate the local fishing industry. In 2019, Diane Wilson won a $50M settlement from Formosa Plastics – the largest Clean Water Act payout in US history – for discharging plastic pollution into Lavaca Bay. The settlement is being used to restore and revitalize the Bay's fisheries and establish the Matagorda Bay Fishing Cooperative. 

"Many commercial fisherfolk in our community stand with Diane," said Mauricio Blanco Pachuca, a longtime Lavaca Bay commercial shrimper. "We call upon the Biden Administration to protect our fisheries and stop the dredging project now."

Terence Courtney, Director of Cooperative Development and Strategic Initiatives at the Federation of Southern Cooperatives, said, "We are concerned that dredging the bay will harm sea life, have disproportionate impact on communities of color, and diminish the potential for cooperative economic development in an impoverished community.  We are also concerned about how this will impact Biden's proposal to cut US greenhouse emissions in half by 2030."
Congress lifted the crude export ban in 2015, propelling a rapid expansion of oil and gas drilling in the Permian basin in west Texas and southeast New Mexico and opening the shale basin to global markets.
Advocates warn that burning all the oil, gas, and liquids projected to be produced from the Permian by 2050 would emit nearly 42 billion metric tons (Gt) of carbon dioxide (CO2). This is equivalent to the annual emissions of 360 typical U.S. coal plants over the 30-year period. This does not include emissions from methane releases – meaning the actual climate impact is likely magnitudes higher.  http://www.stopfossilfuelexports.org/

"The Matagorda Ship Channel dredging project represents everything that's wrong about the expansion of crude oil exports in the US," said Ethan Buckner, Infrastructure and Petrochemicals Campaign Manager with Earthworks. "The oil industry destroys coastal ecosystems and economies, pollutes local residents, and trashes the global climate in a desperate race to squeeze profits from the Permian basin. To fulfill his promises to confront environmental racism and climate change, Joe Biden must cancel this ill-conceived project, and reinstate the crude oil export ban to protect Gulf Coast communities and the climate from this kind of reckless exploitation."
Sign the letter to President Biden
Mike Ferner was a hospital corpsman during the Vietnam War and has travelled to Iraq and Afghanistan.  He is a past president and executive director of Veterans For Peace.