We received a phone call from someone who asked if we take in owls for rehabilitation. "Yes, we do," I replied; there was silence for a moment and she said, "OK, I'll call back when my husband comes home from work, he's got the baby owl tucked into a box for the long ride."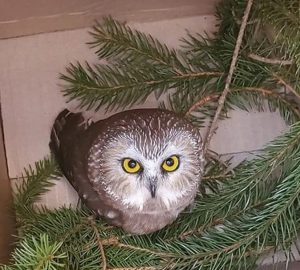 I asked where her husband was when he found the owl. She said he works for the company that transports and secures the Christmas tree in Rockefeller Center.
They lived an hour north of New York City so we met halfway to do the transfer. Once the box was secured, I peeked inside and saw this little face looking up at me. He/she was a little Saw-whet owl, the smallest of the owls we have in the Northeast; I named him Rockefeller. All baby owls are born in the spring so the idea that there was a baby owl in November didn't make sense.
Back at Ravensbeard Wildlife Rehabilitation Center, we gave the patient fluids and warmth followed by a buffet of all the tender mice he could eat. We believe It had been about three days since he had eaten or drunk.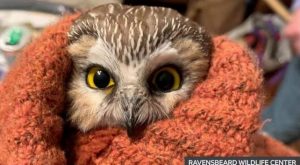 A visit to the vet and x-ray let us know the owl was free of fractures. We then took Rocky to an owl specialist who discovered Rocky was a girl, as well as a first-year hatch, and would be migrating south for the winter.
We scoped out a nearby conifer forest for release. We found a quiet spot and waited until dusk when all the alarm birds went to sleep. She would have all night to get a good start on her migration and by dawn would find a safe place to sleep away the day.  She would repeat this until she found her way to a warm and food-rich environment.
She flew beautifully and perched in a white pine about 16 feet high. We saw her jump to a clear opening in the branches and then, within a blink, she was out of sight. Our small staff of volunteers and I let out a sigh of relief as we watched the tiny wood nymph disappear before our very eyes, a snapshot to last a lifetime!
Ellen J. Kalish is the founder and executive director of Ravensbeard Wildlife Rehabilitation Center in Saugerties, NY. Ravensbeard provides wildlife rehabilitation for injured, ill, and orphaned animals in order to return them to the wild. The center promotes community awareness, education, and appreciation for the natural circle of life, offering volunteer opportunities to work with many different species in order to experience their true nature. For more information or to support their efforts, visit ravensbeard.org.