"We mourn Tyre's death and honor his spirit by calling for real accountability. Charges against officers who have already killed someone are never enough — we need to abolish the whole damn system."
R
apid City, SD – In response to the brutal killing of Tyre Nichols by Memphis police, NDN Collective released the following statements:
"Tyre Nichols was a beloved son, a father, an artist, and an esteemed member of the skateboarding community. He made an impact on the lives of many, and was known as an encourager among his peers. His life was taken at the hands of police all too eager to control, brutalize, and punish human life to the highest degree. The brutal assault on his body and the taking of his life reminds us of the sheer urgency required to dismantle systemic racism and boldly examine the brutality inherent in a police state," said Sarah Manning, NDN Collective Director of Communications.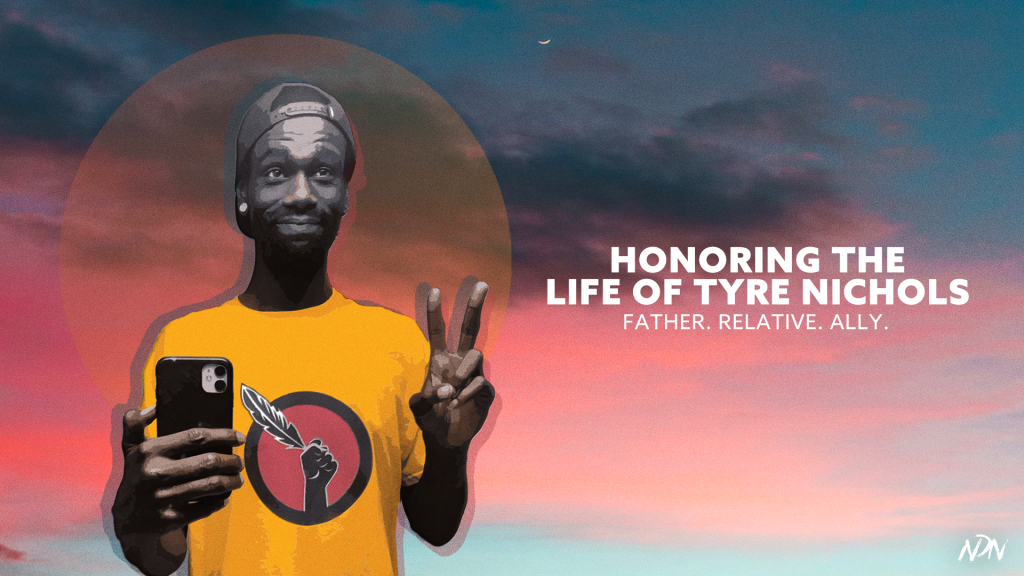 "The charges against the officers serve justice to no one — the fact that Tyre was killed is just further evidence that we're living under a white supremacist system that will always harm Black and Brown people.
"We mourn Tyre's death and honor his spirit by calling for real accountability. Charges against officers who have already killed someone are never enough — we need to abolish the whole damn system," said Korina Barry, Managing Director of NDN Action.
"Tyre Nichols was a human being who had his young life stolen for no reason. His murder is even more evidence that the militaristic backbone of this country is being strengthened every day, which is already resulting in more violence against Black and Brown people. We must continue to rise up against the police state and demand an end to all the violence officers continue to inflict on people across the globe.
"No more police violence, anytime, anyplace, anywhere. FTP and the entire system they are charged to uphold," said Nick Tilsen, president and CEO of NDN Collective.
Donate to the Tyre Nichols Memorial Fund to support Tyre's family in the pursuit of justice and to honor his vibrant life.
Access resources for healing racial trauma and safety in protests.
NDN Collective is an Indigenous-led organization dedicated to building Indigenous power. Through organizing, activism, philanthropy, grantmaking, capacity-building, and narrative change, we are creating sustainable solutions on Indigenous terms.