The man whom Lula defeated—former Brazilian President Jair Bolsonaro—was nowhere near Brasília. He was not even in Brazil. He fled before the inauguration—to escape prosecution, presumably—to Orlando, Florida, in the United States. But even if Bolsonaro was not in Brasília, Bolsonaristas—as his supporters are known—were everywhere in evidence. Before Bolsonaro lost the election to Lula on October 30, 2022, Le Monde Diplomatique Brasil suggested that Brazil was going to see "Bolsonarism without Bolsonaro." The political party with the largest bloc in the Chamber of Deputies and the Senate in Brazil is the far-right Liberal Party, which served as the political vehicle of Bolsonaro during his presidency. The toxic right-wing stain remains both in the elected bodies and on social media.
The two men responsible for public safety in Brasília—Anderson Torres, secretary of public security of the federal district, and Ibaneis Rocha, governor of the federal district—are close to Bolsonaro. Torres was a minister in Bolsonaro's government and was on holiday in Orlando during the attack; Rocha took the afternoon off, a sign that he did not want to be at his desk during the attack. For their complicity in the attack, Torres was dismissed from his post, and Rocha has been suspended. The federal government has taken charge of security, and thousands of "fanatic Nazis," as Lula called them, have been arrested.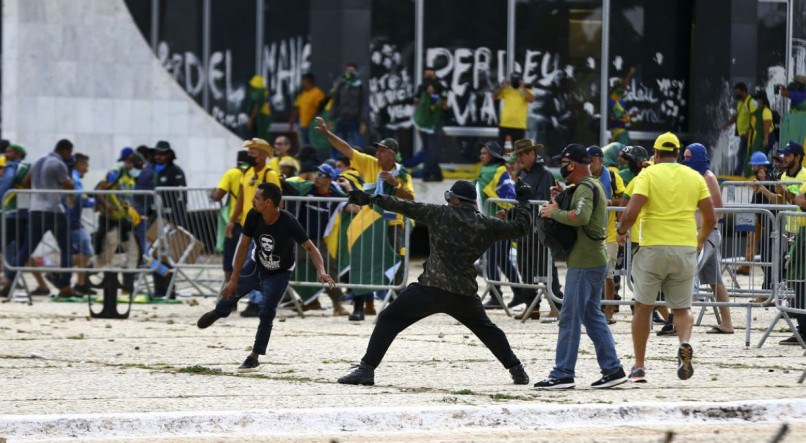 The slogans and signs that pervaded Brasília were less about Bolsonaro and more about the hatred felt for Lula, and the potential of his pro-people government. Big business—mainly agribusiness—sectors are furious about the reforms proposed by Lula. This attack was partly the result of the built-up frustration felt by people who have been led to believe that Lula is a criminal—which the courts have shown is false—and partly is a warning from Brazil's elites. The ragtag nature of the attack resembles the January 6, 2021, attack on the U.S. Capitol by supporters of former U.S. President Donald Trump. The illusions about the dangers of a communist U.S. President Joe Biden or a communist Lula seem to have masked the animosity of the elites to even the mildest rollback of neoliberal austerity.