Author: Jillian Hanesworth
Jillian Hanesworth was born and raised on the east side of Buffalo, NY. She began writing at the age of 7, when she would write songs for her mother to sing in church. She later took a break from writing to successfully pursue educational goals, and worked to obtain a BA in criminal justice and law focusing on reform.
Currently, Jillian is the Director of Leadership Development at Open Buffalo, a nonprofit organization focusing on racial, economic, and ecological justice, and a teaching artist with the Dunbar Project at Ujima Theater. She is the recipient of the 2020 Alt-imate Activist award presented by the WNY Peace Center, as well as a 2021 Buffalo Business First 30 under 30 awardee. Jillian was also named  the first ever Poet Laureate in the history of Buffalo after she spent two years advocating for the existence of the role. Jillian loves and lives for the community and exemplifies that in all that she does.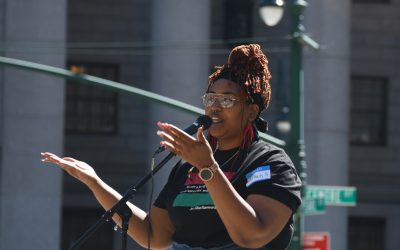 Revolution by poet Jillian Hanesworth from Stephen Rosenthal on Vimeo. The revolution will not be televised The revolution...